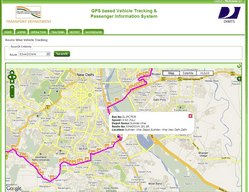 All of the 55,000 existing auto-rickshaws, as well as 45,000 new such vehicles in Delhi are being required to be equipped with a GPS-enabled system, which allows for the central tracking of the location of every vehicle in real-time. The owners are required to pay Rs 13,500 for the GPS/GPRS two-way communication device that is also equipped with a printer for supplying a receipt that shows both the fare and the distance traveled. The system also includes a rider-facing panic button so that riders have a means to alert authorities if their safety is in jeopardy.
This Automatic Vehicle Location (AVL) system is also being extended to the entire fleet of 11,000 public transport buses in Delhi State, in part because of the gruesome rape that occurred on a bus in Delhi in December. The GPS enabled AVL allows real-time tracking of bus movement and provides information on its location. This information is then used along with other details such as the speed of the bus, the route followed etc to provide the passengers waiting at the bus stops with the expected arrival time of their bus. This information is displayed on LED boards installed at the bus stops as well as inside the buses.
IDFC, a private company focused on infrastructure development in India is at the center of this effort. With both bus and rickshaw deployment, this project is easily the largest public transit AVL system in the world.