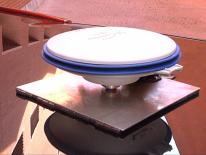 The elements that make up this system are a GPS and a low-cost Inertial Measurement Unit (IMU). The IMU integrates three accelerometers and three gyroscopes to measure changes in the speed and direction. The devices are then connected to a computer that has an application to merge the data and correct the error in geographic coordinates.
Currently, researchers have a prototype that can be integrated into any type of vehicle. Researchers have been using it on an experimentation vehicle, but the goal is to create an autonomous "smart car" that is able to capture and interpret all information to drive itself. To make this next step, they are integrating optical cameras, infrared and laser sensors to detect the road, vehicles and pedestrians in the vehicle's path, adjust the speed to road signs or even analyze the state of driver sleepiness in real time.
The researchers are also exploring the possibility of developing a system that uses the sensors already embedded in smartphones. Taping into the smartphone accelerometer, gyroscope, magnetometer, GPS or camera, plus WiFi communications, Bluetooth or GSM, could provide an even lower cost solution.
Source: UC3M