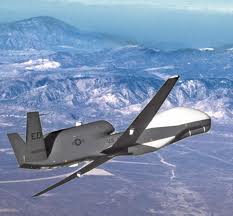 The dual purpose of surveillance and military strike capabilities for unmanned aerial vehicles (UAVs) is drawing greater scrutiny globally. In the United States, where drones have become a central tactical tool in the war in Afghanistan, the Congress is holding hearings and working to establish a central policy. Meanwhile in Europe, there is talk of consolidating manufacturing capabilities to catch up to the United States in terms of design and manufacture of military-scale drones, while debate continues about their appropriate use.
Northrop Grumman Aerospace Systems, the dominant player in the large drone surveillance industry, has seen growing interest in Asia. South Korea was recently in talks with the United States for a $1.2 Billion purchase in order to monitor the North, but the deal requires the approval of Congress and is still undecided. While that deal may not be secured, the Asian market is growing quickly with Frost and Sullivan reporting that the region spent $590M on UAVs in 2011, with that number projected to reach $1.4B by 2017.
The sale of combat-capable drones is restricted, however, countries including China, Australia, Singapore, South Korea, India and Japan have UAV programs under way. Mostly these programs are centering on smaller-scale platforms and long-range drones for high-altitude surveillance, with armed drones not yet a race in Asia yet. Recent reports indicate that China is catching up the United States with drone techology, and cheaper production costs means that they could be a major player with global exports.
On the domestic control front, the city of Charlottesville Virginia has become the first city to outright ban the use of drones surveillance data to be admitted as evidence in a court of law. The state of Florida is currently working on legislation that would restrict their use statewide. And in the Middle East, new plans from a student outline a "drone-proof" city design.
While global growth of the drone market is certain, there are clearly a number of issues to work through in order to secure the expansion. Regulations and some restrictions are inevitable, and the utility for smaller-scale surveying projects needs to be promoted in the face of these efforts.
Resources
The Drone Debate Grows in Europe, by Brian Beary, The European Institute, Nov. 2012
Drone Makers Target Asia for Growth, by Saira Syed, BBC News, Feb. 16, 2012
Analysts: Chinese Drone Technology Advancing Rapidly, VOA News, Nov. 12, 2012