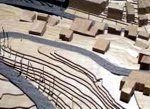 The increasing complexity of infrastructures and densely built-up areas requires a proper registration of the legal status (private and public), that can now only be provided to a very limited extent by the existing 2D cadastral registrations.
The FIG joint commission 3 and 7 Working Group on 3D Cadastres was formed to meet the needs of 3D cadastres in legal aspects, technical aspects and institutional aspects. The first 3D Cadastres workshop (2001) and the second workshop (2011) were held both in Delft, the Netherlands. The third workshop took place in Shenzen, China this past October.
Despite all research and progress in practise, no country in the world has a true 3D Cadastre, the functionality is always limited in some manner. For instance, many only register volumetric parcels in the public registers, but do not include a 3D cadastral map, or are limited to a specific type of object for buildings or infrastructure.
International cooperation is essential to arrive a well-articulated vision for the concepts and objectives of a true 3D cadastre. Through cooperation, the group will arrive at basic guidelines and best practices for implementation of 3D cadastres.
A formal definition has been arrived at. A 3D parcel is defined as the spatial unit against which (one or more) unique and homogeneous rights (e.g. ownership right or land use right), responsibilities or restrictions (RRRs) are associated to the whole entity, as included in a Land Administration system. Homogeneous means that the same combination of rights equally apply within the whole 3D spatial unit. Unique means that this is the largest spatial unit for which this is true. Making the unit any larger would result in the combination of rights not being homogenous. Making the unit smaller would result in at least 2 neighbour 3D parcels with the same combinations of rights.
3D models have much greater potential than today's gaming our tourism applications. A true representation of urban space in all dimensions involves a realistic model with connection to a database system with records on ownership, physical characteristics, property valuation, zoning, transportation, environmental attributes, and infrastructure services. With ownership also comes a greater understanding of socioeconomic and demographic information of property owners.
Among the benefits for such rich 3D models are better urban planning and administration, including much improved emergency planning and response. While we're a ways away from such true 3D representations, the pace of urban change warrants the acceleration of such efforts.
Resources
Diego Alfonso Erba
Application of 3D Cadastres as a Land Policy Tool
In: Land Lines, the quarterly journal of the Lincoln Institute of Land Policy, April 2012, pp. 8-14
Tan Liat Choon and Khadijah Binti Hussin
Establishing 3D Property Rights in Malaysia
FIG Working Week 2012, Rome, 24 p.
Changbin Yu, Lin Li, Shen Ying, Biao He, Zhigang Zhao and Yuan Wan
Designing a Title Certificate for the Chinese 3D Cadastre
3rd International Workshop on 3D Cadastres, 2012, Shenzhen, pp. 1-21