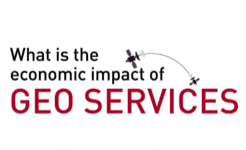 The study defines geo services as interactive digital mapping and location-based services that include satellite imagery, satellite positioning signals, navigation devices, and digital maps. It's clear that the use of these tools are pervasive, with 50% of Internet users accessing maps online, and 35% using maps on smartphones. The growth rate globally is very healthy, with 30% increases per year in Geo services use that is expected to increase as digital maps get better and more accessible.
The report details both the social benefits as well as the economic benefits of digital maps and mapping. The cost savings for shorter journey times and fuel costs are estimated to be $22 billion for consumers, and $10 billion for logistics companies. The educational benefit that promotes a "higher-order thinking" is estimated at $12 billion per year. The value of more efficient emergency operations, with a 20% reduction in ambulance times, is estimated at more than $427 million for the UK alone.
The purpose behind conducting the report seems to be the broader awareness of the value of private investment, and the need to continue to invest public funds for broader innovation. The sector has certainly benefitted strongly from open GPS signals, which are taxpayer funded, and there's ongoing need for public funding of earth observation. Google points to the need for open data policies, more geographic education, and product innovation in order to sustain the growth.
These reports provide great value to vendors and practitioners wanting to justify costs as they point to great down-stream values for these investments. Practitioners can also feel encouraged by the high demand for skills, with job growth of 22% for cartographers, 16% for survey/mapping technicians, and 35% for geographers. Asia Pacific is said to be in nascent stage of growth, which means that the growing jobs and growing value of services will eclipse other more developed parts of the world.
See the full reports for much more detail into the report findings and methodology. The notice of Google's research was posted by Brian McClendon, VP Google Geo, on the Google Blob here.