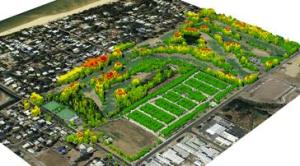 The 2013 GIS in Local Government Benchmark Study will fill a lack of industry research into how the technology is being implemented. The industry has been aware that the role of GIS technology in local government is increasing, and hope to quantify both the use and potential in the report. The survey also aims to help local governments gauge where their current GIS technology capacity sits compared to their peers.
"Local Government is the largest user of GIS technology in an industry worth more than $2.1 billion in Australia," said Esri Australia Managing Director Brett Bundock. "Our councils have been responsible for some of the most pioneering applications of the technology seen globally – such as during the recent Queensland floods; and widespread bushfire crises across the country's southern states. Beyond these large-scale events, GIS technology is used daily by councils across Australia to manage asset maintenance; aid development planning, economic management and service delivery; and coordinate education campaigns."
The study will also encompass the latest uses of the technology, such as the customised and intuitive smartphone apps for citizen engagement on maintenance issues.
"Each council that participates in the Study will receive a detailed report that will enable them to benchmark their current practices against other councils," said Bundock. "For many, this report will provide the evidence required to further develop and expand GIS technology strategies into the future."
"We've thrown our full support behind what is an incredibly valuable piece of research for local governments and the spatial industry as a whole," said SSSI President Gary Maguire. "Of particular interest will be how local governments are using geospatial professionals to gather and map information."
Councils that wish to take part in the survey can register at www.esriaustralia.com.au/benchmark-study