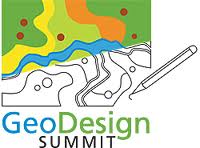 Tom Fisher from the University of Minnesota is the master of ceremonies for the event, and his introduction focused on a "course correction" period that we face currently, and the ability of this approach to address the challenges of urban growth, resource constriction and the global change of climate.
For those unfamiliar with the concept of GeoDesign, following are some definitions from past events:
Geodesign is a vision using geographic knoweldge to actively and thoughtfully design. – Jack Dangermond
Geodesign is design in geographic space (geo-scape) – Bill Miller, Esri
Geodesign is a method which tightly couples the creation of design proposals with impact simulations informed by geographic contexts and systems thinking and (normally) supported by digital technology. – Michael Flaxman
Geodesign changes geography by design. – Carl Steinitz
Bran Ferren, the chief creative officer of Applied Minds, addressed the inaugural event and has come back as the opening keynote speaker. In his initial talk he challenged attendees to be better story tellers. His talk started with a discussion of exciting innovations like the Internet that greatly transform society within our lifetimes. Technology that just happens includes self-driving cars that were a thought back in the 1950s, and with enough aligned technology innovation we see these things happen quickly. We will see self-driving cars within 10 years.
Geodesign will happen similarly, with a collection of technology miracles, such as GIS, the Web, connectivity, cloud computing, ubiquitous sensing, GPS, simulation, 3D, etc. Ferren says you don't have to create all these innovations, you just need to be paying attention, and embrace the innovations rather than compete with them. He asserts that storytelling is the essential component to create this change.
Ferren talked about three types of design
reality based design- understanding what humans experience, bringing in nature or excluding it
fantasy-based design – worlds and visions or fantasies (Disneyland) that are artificial where reality isn't good enough and cause a new set of impressions
bad design – is any other kind of design, and it's hard to avoid
We are in a moment where we really need to get design right, and there are no quick easy answers to the long complex problems that we face. Science has some relevance, such as global warming, and the need to address repercussions. Geodesign is a form of storytelling that combines geography and all the databases of spatio-temporal events, real-time inputs, and visualization to examine the context of our observations. The ability to rapidly iterate and look at alternatives will change how we design and execute design, as long as we validate and take the time to get it right. With the network effect, the right piece of knowledge gets shared everywhere, and makes an impact by creating a shared intelligence.
The whole list of really big issues that we need to deal with, requires us to take a long view. Ferren suggests a 250-year plan that starts with a desired end state — with an intellectual road map that allows us to test our assumptions.
Geodesign holds the promise to start the intellectual framework to create the 250-year plan where even those with wild ideas can plug them into the model and get to see what they got right and wrong. Building the models allow us to see things we didn't think about and that aren't obvious, getting us to an understanding of the steps we need to take to achieve our collective desired end state.