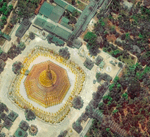 The network would be particularly helpful in shared border areas such as with river, mountains and forest areas. The tools would help to find amicable solutions for their management. For instance, the Ganges, which flows through India and Bangladesh, has many problems during its smooth flow, due to stagnation of sediments, erosion at various places.
The Southeast Asia Regional Research and Information Network (SEARRIN) is dedicated to the scientific understanding of human-environment interactions. SARIN conducts research on land cover and land use change in an integrated science framework that includes remote sensing and GIS technology, econometric and systems models, and field work.
"SARIN establishment is for carrying out data dissemination, collection and analysis for the benefit of the participating countries, by sharing the data within and outside, which include socio-economic data," James said.
Brent Holben, a scientist in NASA, said that it was planned to establish an Aeronet Station at the University to study the atmospheric changes in Western Ghats and Southern India, involving local scientists.
Stating that four such stations were already functioning in Pune, Kanpur and Jaipur, Holben said that NASA plans to install an Aeronet station with nearly $ 40,000 inequipment.
Source: The Hindu