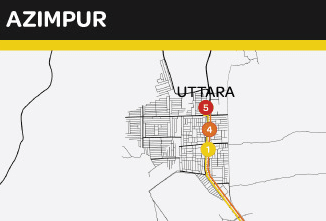 The group made a bus tracker and a survey application for the smartphones, and the eight volunteers rode more than 270 buses, and interviewed more than a thousand people, over seven days. With the tracked bus rides, they were able to quickly map bus routes that more than 5 million people ride every day. Their work didn't just calculate the bus routes though, they also calculated bus schedules, the level of crowding on each bus and line during different times of day, and the demographic makeup of the riders on the bus.
The new map could have a real impact on the 18-million person capital of Bangladesh, although the group acknowledges the difficulty of making the system more efficient. The buses are run by many private operators, and few stops are designated. In fact, passengers usually have to jump on and off the moving vehicle. However, armed with this map, citizens can help improve the reliability and regularity of the service through their actions and expectations.
The Urban Launchpad aims to bring technology advantages to the developing world through data. They have created a campaign on the popular crowdfunding site KickStarter to help raise funds so that they can print and distribute this map for people in Dhaka to use as most people don't have smartphones.
View details of this project, and sign in to help out this effort, here.