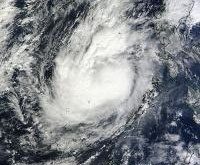 In contrast to past criticism for not acting decisively, the national government was quick to issue strong warnings as the storm approached. President Beigo S. Aquino III went on television to make direct appeal to citizens for their response, followed by instructions from local government officials.
The government's recently completed geological hazard maps illustrate why many of these coastal areas were hard hit, and why there was a high loss of life, despite the warnings. These areas are prone to flooding, with local populations choosing to rebuild and live in these zones despite the high risk.
"It's not only an environmental issue, it's also a poverty issue," said Environment Secretary Ramon Paje. "The people would say, `We are better off here. At least we have food to eat or money to buy food, even if it is risky.'
Heavy rain triggered landslides and floods along the coasts as well as in farming and mining towns inland. Several irrigation reservoirs in the mountains gave way, sending large volumes of water into valleys. People stay due to the wealth of natural resources in the area, including timber and gold, which is mined by small-scale miners.
The UN Digital Humanitarian Network (DHN) was activates for help with the disaster, with the charge of collecting relevant Tweets about the typhoon's destruction. Volunteers were charged with identifying pictures and videos of damage/flooding shared in those tweets; geo-locate, time-stamp and categorize this content. More than 20,000 tweats were analysed, with details passed along to authorities.
There is an effort underway now not to let locals rebuild in areas classified as danger zones, with the hopes of reducing casualties for future storms.
Sources: iRevolution Blog, New York Times, Seattle Times