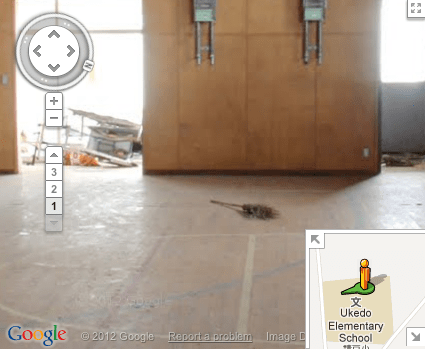 The initial Street View images proved instrumental with local government debates about whether to tear down or keep buildings as memorials. Recently, many local governments have decided to move forward with demolishing, and Google felt some urgency to quickly photograph and preserve a record of these areas to help heal emotional wounds.
Among the buildings that Google has documented are:
an elementary school close to the ocean, where all kids escaped harm thanks to regular drills
Rikuzentakata city public housing, where everything was destroyed up to the fourth floor height, documenting the heights of the tsunami wave
Ukedo elementary school gymnasium, near the Fukushima Daiichi nuclear power plant
The team intends to continue capturing more buildings
in t
wo Iwate Prefecture cities, Ōfunato and Kamaishi, over the coming weeks. By the end of the year, they also hope to complete the collection of imagery from five new cities in the Miyagi prefecture. City governments in Northeastern Japan that are interested in the Google digital archiving project are welcome to contact them through
this form
.
Source: Google Maps blog