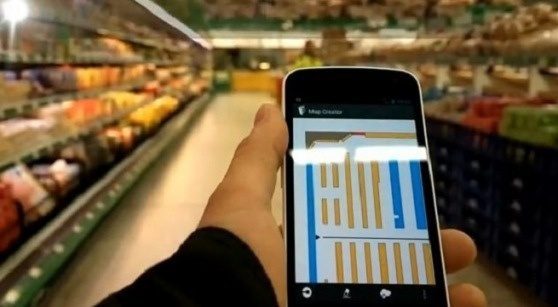 Indoor positioning is both a huge opportunity and a challenge given that we spend 80-90% of our time indoors (source: Strategy Analytics), and in dense urban areas such as Manhattan, the square footage of interiors are multiple times the size of the landmass. The difficulty navigating is also compounded by the complexity of multiple levels. However, there are whole new dimensions of benefits for the efficient location of goods and services indoors. To meet the opportunity, a great number of institutions are conducting research with a growing number of start-up companies offering commercial solutions to a address a host of technology challenges.
"From a mass market and consumer push, it's going to be one of the next big battlegrounds," said Ed Parsons, geographer in residence at Google. "There's a lot of talk about 3D maps, with the new version of Apple Maps. But that's really an evolutionary step above what Google Earth gave you, so it's a little bit exciting but it's not going to have that big of an impact on people. Whereas maps of all those indoor places that you visit — offices, schools, universities, railroad stations, shops — will make a big difference in our lives."
GPS position falters in dense urban areas or forests because the satellite signals don't penetrate beyond hard obstructions and can bounce off buildings or trees resulting in too many signals (called multi-path) that degrades the precision of your location beyond a useful range. Additionally, the best precision of handheld devices such as smartphones are in the one-meter accuracy range, which is helpful when driving a car down a street, but not so useful indoors where greater accuracy is needed to find the correct door or hallway or the precise location of assets indoors.
Many stronger signals have been harnessed to help triangulate indoor position, including WiFi, Bluetooth, RFID tags with beacon sensors, and even television signals. While technologies to improve the signal strength of global navigation system of systems (GNSS) have continued to evolve to provide better accuracy outdoors, we have yet to strike on a reliable and cost effective broad indoor technology, so we're still at the first generation of technology solutions.
"Different applications will have different precision needs. There's the generic positioning where WiFi is fine, and then there are applications where RFID or other forms of beacon technology are appropriate, and then there are the UWB-based solutions where you install those in particular types of buildings where you need to track things precisely," said Parsons. "I think we'll end up with a hybrid positioning model where different technologies give you more or less precise positioning, and you'll pick one you need for your application."
A large number of technical challenges exist in order to scale indoor mapping across the built environment. The opportunity however is very large, meaning that we can expect to see a great deal of investment and innovation in this area for some time to come.