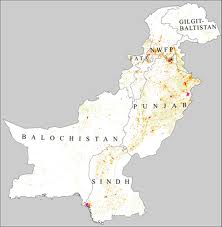 Firstly, i would like to mention the aims and objectives of the Bill for explaining my viewpoint on it.
(i) to transform the Survey of Pakistan into a National Mapping Agency ie an authority regulating surveying and mapping activities in the country;
(ii) to make it compulsory for all firms involved in Surveying and Mapping activities to get themselves registered with the Survey of Pakistan;
(iii) to make it obligatory for all firms involved in Surveying and Mapping activities to adopt Surveying and Mapping standards framed by the National Mapping Agency, ie the Survey of Pakistan;
(iv) to stop unqualified/unregistered firms from taking part in surveying and mapping activities that could pose a security risk to the state;
(v) to protect established and affixed survey markers at various locations across the country from damage by assigning their responsibility to local district management/ governments;
(vi) to avoid duplication of efforts in the field of mapping especially in the public sector, thereby economising on public exchequer; and
(vii) to assess mapping requirements of public and private sectors on a yearly basis, thereby lending technical support to federal and provincial developmental plans and activities.
A few colleagues of mine mentioned, "Then there will be no GIS market..in actual things will be different than these fancy words…" althoug "things in words frame look fancy and easy, but who would ensure the transparency?"
Keeping in view the 7-points objectives and the mapping business environment in Pakistan which is being led by international mapping agencies like UN offices, IMMAP, USAID and some local leading firms like NESPAK, it can safely be said that this bill would not make any significant difference to the ongoing geospatial development and large digital data repository of the country. In fact, I would argue in favor of this bill as it will ensure the standard mapping practices and serve the country similar to an national SDI (spatial data infrastructure) under the direction of Survey of Pakistan.
The current non-centralised mapping efforts result in a lot of data redundancy and poor data sharing, that are beyond the scope of this topic. This bill is expected to provide a cross-organisational national platform for data sharing. For the negative reviews that the maps and map makers could face a crackdown by the government on security-related concerns, I would suggest that the situation would be much better than the expected-hostile mapping environment after the enactment of this bill. If our engineers, surveyors, doctors, planners … all follow a national standard of education and practice …then why not a regulatory authority for GIS experts and GIS products in the country? It would encourage standardised mapping outputs and fast pace the geospatial data generation and sharing.