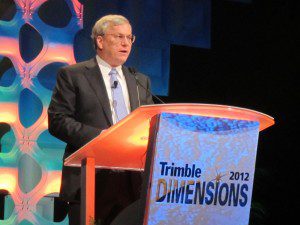 Trimble understands the need to be international, but also to be local to adapt what they do to local practices. There are more than 80 countries attending this year's event, and the company has sales in 150 countries. Third quarter results were announced last Thursday, and continues with strong growth at an average of 17% per year for the past ten years. They will end up with $2B revenue this year.
There are five core franchise businesses that are the focus of the company including: cadastre and survey, heavy construction, building construction, agriculture, and transportation logistics. There are also emerging markets that have been identified, including water management, mining, forestry, construction supply, electrical utilities, railroads, waste management, oil & gas, public safety, field service, and infrastructure. The company continues to explore new opportunities where they can make an impact to work efficiency.
Twenty years ago to be in the surveying instrument business required mechanical and optical expertise. Now it requires a deep understanding of signal processing, meaning there are far fewer players because of the high cost of research and development. Over time Trimble's technology focus has evolved from sensor capability, to connectivity, to understanding context with modeling and software, and the current state is to enable decisions based on the context in the model along with more analytics. The focus is on the integration of technology into useful solutions for users.
The company has done 73 acquisitions and joint ventures in the last ten years, not to grow bigger, but to fill in gaps with technology and domains. Over the last ten years the focus has been more on software. Along these lines, Trimble and Bentley announced a new contractual arrangement at this year's event to bring the model more effectively into the construction field, and better serve the user with a tighter alignment between the model and what goes on in the field.
The theme of the conference is transformation. In effect, transformation alters the structure of individuals and organizations, changing the fundamental nature of work.
The five major forces at work are:
Sensors – from optical to satellite to imagery, there are continuing advancements in what we can capture. Laser scanning is producing enormously more capability.
Processing power – great amounts of intelligence are now possible within software, based on increased computing power. Software is increasingly able to extract subtle differences out of the data that is captured.
Data storage – Big data is upon us
Connectivity – Cloud computing allows for whole new ways of collaboration.
Visualization and interaction – 3D models
The traditional table and graphs view no longer works with the amount of data that is available now. Sensor integration, with the ability for machine-to-machine interaction, is transforming many businesses.
In the survey field the evolution has moved from mechanical and manual to early automation and then field-centered intelligence, then to integrated and real-time. Now we're in a process of change with many radical new solutions that capture huge amounts of information. Berglund related the speed of change to that of the telegraph, where communication moved from steam travel to the speed of light. Access to data and connectivity today is general and ubiquitous.
There is a traditional comfort zone of the "data collection" role, and new roles need to be created with more sharing and collaboration between players. With all the data, how to manage it is increasingly an issue. The challenges raise a number of questions versus the historical model. The problems are addressed in both the office in the field, and increasingly the technology allows questions to be answered in both places. Data integrity becomes an increasing issue, and with all the crowdsourcing locations, we get a new area of good enough data. The idea of who has influence on the data, is also changing, with owners emerging as more integral to the process.
The connected construction site is Trimble's vision, with a continual evolution to add more elements over time. The role relationships are in process of changing, and Trimble is working on a more aggressive idea of design/build/own. SITECH is a go-to-market branding for Trimble as a way to get to a global scale with this vision.
Trimble is currently constructing a building in Westminster, Colo. that is using the best technology from pre-construction, through completion. A 3D model is being used throughout, with close attention to detail. They project has served as a case study, with radical improvements in how we do business.
Berglund closed with an image of a slide rule, saying that he knows what to do with it, but many in the audience don't. This tool and thick manuals of information got us to the Moon, and Berglund continues to ask himself whether we are really doing better with the tools that we have today. While we are now able to be faster and cheaper, we need to move toward using the technology to be transformational and a whole lot better than we have been before.