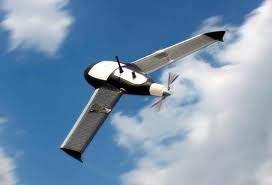 At the company's operational launch at InterGeo in 2010 it was one of three with unmanned aircraft. This year, there were over 34 companies offering a UAV solution, UAV service or image processing software. Gatewing has aimed their focus on building surveying and mapping applications, from end-to-end with image processing software. Clearly there is great interest in this revolutionary technology, with economic benefits for areas of small scale, and a new quick and flexible tool to provide products much more quickly than traditional photogrammetry.
The Gatewing X100 has a wing span of 1 meter, and a weight of 2 kg (4 lbs.), with an aerodynamic shape. The top speed of 80 mph, gives the craft stability in high winds up to 40 mph, ensuring good quality imagery. Typical flying altitude is 150 meters, with a 5 cm pixel.
There are three steps to UAV collection:
Step 1: Image acquisition – easy to use mission planning with either Google Maps or your own imagery. You draw a rectangle, indicating altitude, and take-off and landing spots that you scout for safety. After that it's an automated process, where you launch and the software manages the flight and landing. A direct feed from the camera and telemetry allows you to monitor progress in flight.

Step 2: Image processing – the package comes with Stretchout software to preprocess and synchronize the images, to evaluate quality and completeness, with a transformation export for different processing software. The choice of professional processing software is up to the user, with a number of turnkey solutions available.

Step 3: Application tools to extract the right information – The output is compatible with INPHO, Ensomosaic, Photoscan, Icaros, and more. The processing uses automatic aerial triangulation with delivery of a pixel point cloud that provides both imagery and terrain.

The product philosophy with the plane is not service and repair, but replacement, as the plane will degrade over time. The conditions dictate the longevity, with a conservative estimate of 50 flights with each wing, with some wings continuing in operation past 200 flights, all dependent on terrain and impact upon landing. To replace the wing is roughly $1500.
The company ran a demonstration at the Mogalakwena platinum mine in South Africa, and compared the output to both terrestrial measurements and LiDAR. The overall accuracy was comparable to LiDAR output. The spatial accuracy, with rigorous post-processing provides 5 cm accuracy with vertical accuracy at 10 cm.
There are a large number of applications where this technology makes good sense. Among them are mining, asset management, and project coordination. The tolerances in construction are greater that the solution delivers, yet the return is useful for overall project management. Precision farming is another use with vegetation monitoring and input for variable fertilization and irrigation.
Regulations of airspace continue to be a constriction in many areas of the world. Australia and Canada have been pioneers on regulatory frameworks for UAV operators, with training programs. In the United States, the FAA is currently working on a regulatory framework with clarity of rules scheduled for May 2014.