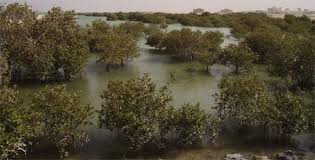 From Qatar to Brazil to Indonesia, mangroves are of major importance to human well-being as they serve as nurseries for aquaculture, builders, and protectors of land, and provide an amazingly effective means for reducing carbon in the atmosphere. In spite of their importance, mangroves are threatened everywhere. Now, more than ever, there is a need to deepen the level of research and data collection to evaluate the overall health and well being of these fragile ecosystems.
The project aims to both map and track the biodiversity of coastal ecosystems, providing a measurement of the health of mangroves and other flora and fauna. The pilot phase of the Mapping Mangroves project began at Al Dhakhira Mangroves in Qatar on April 21st and continues to Caravelas Mangroves, in Brazil. The project utilizes a tool called Ushahidi, an open source mapping platform that enables people anywhere in the world to upload GPS-tagged data from a mobile device. The crowdsourced data will be compiled to create an online collection of critical information (including pictures, videos, geographical coordinates and textual data) about Qatar's mangroves. The tool also generates data visualizations that will allow people who visit the site to view the distribution of the world's mangroves on a map.
The interactive online presence for the Mapping the Mangroves project started with a group of students wanting to communicate more effectively with their counterparts. The aim is to compile a detailed online database, because while scientists visit frequently, no detailed map of the diverse mangrove forest exists. No wanting to just stay local, the project opened itself to global input and so far has received input from Qatar, Brazil, Palau, Costa Rica, the United States and Australia.
Sources: Qatar Foundation International, Gulf Times