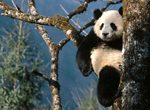 The study, which was conducted from 1999 through 2003, worked to count every panda living in the wild, uncovering 40% more than were thought to exist. The scale of the study, and the data, weren't studied before for favored habitat, and it was found that pandas prefer old growth forests that have never been logged. Other factors traditionally used in panda habitat models, such as topographic slope, are less important.
"But maps and measures of habitat suitability are only as good as the underlying biological assumptions, which are sometimes influenced by the scale over which data are obtained, " states the study. "Modellers of panda habitat have not ignored the available ecological data but have been forced to rely on data collected over limited temporal and spatial scales."
You can view the complete text of the study here.