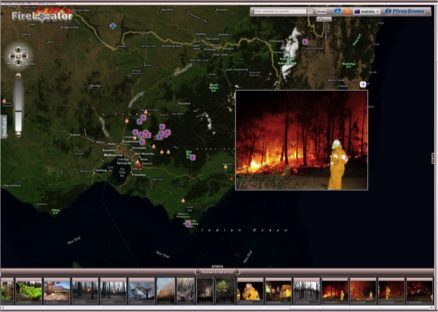 Location Intelligence is empowering emergency managers to be better prepared, to respond in a more informed manner, and undertake recovery operations guided by a clear understanding of the situation. Applications providing location intelligence are indispensable to emergency workers as they provide the ability to display a large amount of information shown via an intuitive medium and location-enabled perspective. The end result is faster collaboration and interoperability between emergency management systems, providing confidence in the decision making process. Let's review the role of location intelligence during different phases of an event.
Prevent and Prepare
We can do well to heed the saying "Praemonitus praemunitus" or "forewarned is forearmed". Prudent use of location intelligence helps prepare agencies through the ability to model future events and provide critical information to management personnel tasked with decision-making in times of crisis.
An example of an organisation successfully implementing this strategy today is City of Casey Council in Victoria. The Casey Alert Local Manager (CALM) system displays infrastructure related data over demographic and other Council specific content within a map-based interface in real time. This enables managers to be better informed in times of crisis. Far from being a map frozen in time, the CALM system allows operators to formulate emergency scenarios, dynamically generate statistics of population impacted, infrastructure affected, the coverage zones of response travel time, as well as overlay triage and safe zones within the mapping interface.
Jem Belcher from City of Casey says "It's a case of a picture being worth a thousand words. Once we identify the location and immediate boundaries of the emergency, we can introduce overlays that superimpose specific information on the displayed map."
Modelling of disaster situations is only successful if the models contain an appropriate level of "real world" data to produce meaningful outcomes from the modelling process. Thus the collection of field data is a valuable component to the planning process. Without real world data – for example public infrastructure, utilities and transport links – emergency managers will not have confidence in the results from any modelling. In addition, collection of field data and the storage of the data in a robust infrastructure asset management system provides innumerable benefits to an organisation charged with maintenance of those assets. Once a luxury, infrastructure asset management systems are now seen as mission critical solutions by councils and infrastructure owners alike. Whilst the primary purpose of collecting the information is for core infrastructure asset management processes such as inspection and maintenance management, we can see from the experience of our customers that the system also facilitates rapid response and recovery assistance in the field in times of emergency – a key emergency management resource.
But, there is much more to this story. The capability to analyse specific asset-based data and run a risk analysis to determine a calculated probability of failure and the risk factor imposed on the environment for each asset is key. The analysis is based on a matrix combination of an asset's 'current state' data and risk model data. Risk analysis results can be used to identify the mitigation activity required which may be recorded, along with other information about the activity. This information provides organisations with a view on risk classifications, consequences of failure, associated consequence severities and can also take into account an asset's condition or age. Such a multi-faceted approach to emergency planning and risk management can only put infrastructure owners in a more confident position to respond when the need arises.
As we have demonstrated, preparation underpinned by location intelligence provides organisations responsible for emergency management with the ability to offer improved protection of the community, through a greater understanding of the people and their environment.
Respond
When an emergency incident occurs, responsible agencies routinely use applications containing location intelligence capabilities to ensure that appropriate resources are effectively deployed. For example, Computer Aided Dispatch (CAD) systems are used by emergency operators frequently to capture incident details and plan a response. In an emergency, every second counts.
A quick response is inextricably linked to location intelligence; without the precise location of the incident and of the necessary response agents, an operator is not able to confidently make life-saving decisions. Finding a precise location is harder than it sounds. Anyone who has had to deal with address information understands the challenge determining a true and correct address. Complexities like unofficial locality alias, street name alias, private estate names and gated community address structures are just some examples of what gets in the way of resolving the location of a crisis. Exhaustive, quality location data is needed to address these issues.
This point is not lost on those responsible for saving lives. Glenn Walker, Chief Information Officer, Queensland Department of Community Safety states, "Queensland's Department of Community Safety is unique in Australia. The agency provides services covering all phases of emergency and disaster management – prevention, preparedness, response and recovery – delivered by fire, ambulance and Emergency Management Queensland across a single portfolio. Pitney Bowes Software's data solutions assist the Department to deploy an information overlay that plays a critical role in our business processes. The high quality data assists in delivering timely emergency services accurately to the required location."
But, what about community engagement? Another critical component of emergency response is public communication. Even here location is the best perspective to employ when relaying emergency communications to the general public. For example, the ability to relate to the location of a fire in the context of your local neighbourhood can only best be conveyed through the use of a map.
Location intelligence brings together multiple datasets that might otherwise have been disparate and uncorrelated into a seamless, single, easy to use interface. For example the Firelocator application, developed by Pitney Bowes, displays information from multiple fire agencies simultaneously putting the power in the hands of end users providing them real time access to information that is drawn together in an easy to access format. The application is location centric and provides users with dynamic risk information that can quickly and easily be related to their locations of interest.
Image of FireLocator in action.
Recover
While the duration of an emergency incident varies — it may last seconds, minutes, hours, or even days — something in common for larger incidents is the time needed for recovery will be many times longer. The value of location intelligence during the recover phase is clearly demonstrated by widespread adoption of location intelligent systems within commercial and government organisations involved in these operations. From police to council to multi-national insurance agencies, the basic value of location intelligence is undeniable as organisations seek to understand where the incident occurred, who was impacted and the location of resources required to bring about the recovery.
Reflecting on the contribution of Location Intelligence to the recovery efforts following the 2009 Victorian bushfires, Frank Blanchfield, a coordinator of the MAPS Volunteer Group said "In the situation of a major crisis, MAPS can provide additional resources to map the areas emergency services are working in. Mapping is a key technology for managing bushfires and other emergencies, before during and after a major incident."
Location offers essential contextual clarity necessary to help bind the efforts of multiple recovery agencies. Is that essential? Of course it is if you agree that the rapid restoration of infrastructure is a key element of the recover process. This can only occur with reliable infrastructure location information readily available to decision makers and response crews. This was most recently demonstrated with Pitney Bowes' involvement in the Queensland Department of Environment and Resource Management's flood recovery activities across Queensland.
Many organisations are constantly trying to deal with scarce resources and limited funding to plan, respond and recover from any emergency. While some have already invested in location intelligence capabilities, the difference we see is how well it is exploited to drive a robust, holistic, confident emergency management strategy.
Authors: Sean Richards is director, Product Management, and Ashley Crane is manager of Technical Support at Pitney Bowes Software APAC. Contact Sean at sean.richards at pb.com.