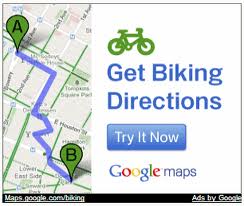 India gained new turn-by-turn navigation features, including voice navigation, that is available across the country. The service also includes live traffic reporting for Bangalore, Mumbai, New Delhi, Chennai, Pune and Hyderabad, with color coding of the roadways based on current traffic speeds. Traffic speeds are derived from anonymously collected information from those that are using the service.These new features have been met with great enthusiasm in a country that has notoriously hectic and difficult roadways.
New Zealand received several upgrades, including bicycle directions and access the Google's Map Maker for user-generated mapping. The bcycle directions offer routing via favorite routes and trails, with estimated travel times. The Map Maker tools means that users can add paths, trails, road names, building footprints and more.
Google is also adding Street View images for college campuses, including Sophia University in Japan. The images are collected either by car or a specially-equiped tricycle that takes 360-degree images that can then be navigated via a map interface.
Google has been very active in Asia with the rapid release of new features. Earlier this year, Street View maps were made available in Thailand, and Australia received Map Maker access this August.
The competitive marketplace is active in the Asian region, with China's Baidu (with 80% of search engine users in China) as a primary competitor for online mapping and map-based services in the region. Baidu recently unveiled new 3D maps of cities with detailed buildings and vegetation, including a high-level of detail.
While Google has a jump on these services in Asia, the company continues to feel pressure from Apple and Amazon, who have both announced plans to roll out their own mapping services. The mapping data and services company TomTom is also set to launch maps and navigation services on the Android platform starting in October.