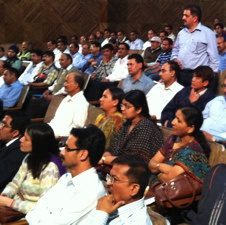 The workshop was organized by the district administration of Nainital along with the Centre of Excellence for NRDMS in Uttarakhand at Kumaun University in Almora. Support for the effort was provided by the Government of Utarakhand and the Government of India.
Prof. J.S. Rawat, Director of NRDMS framed the objectives of the workshop and demonstrated applications of GIS in district administration and planning. As part of his presentation, he outlined the GeoPortal of the District of Almora that has been tuned to the needs of district administrators and planners. Included in this GeoPortal are applications for police, watersheds, roads, villages, households, elections, municipalities, education, and health. The demonstration focused on how different departments can access map information through a simple computer interface.
Mr. Jithender Tripathi, Executive Engineer, of the Public Works Department, Nainital presented a brief account of digital data needs of his department. At present the department has no digital database, but is eager to use digital data. He urged the conversion of all existing analog road maps of the district in digital form, and also the need for digital maps of land use pattern, drainage networks, and property lines. He envisions watershed maps of catchment areas along with rainfall and silt data of streams/rivers for the better design of bridges and culverts.
Mr. K.S. Kanyal, Assistant Engineer, Department of Irrigation stressed on the need of GPS based planning of canals from source point of water for irrigation.
Dr. Abha Bhatt, Deputy Director, Tourism Department said that digital information of hotels, rest houses, guest houses, road network, religious and other tourist places would help in the development of tourism in the district.
Mr. Grish Arya, Sub Divisional Officer, Uttakhand Power Corporation Limited, Nainital stressed the need of digital data of 11kv and 31kv power lines and location of transformers and electric poles. He also suggested that digital map showing spatial distribution of forest and agricultural land, names of villages with their population and information of electrified and non-electrified villages would be very helpful in planning new power lines.

Dr. V.K. Garkoti, M.S, GB Pant Hospital Nainital wishes for digital maps showing spatial location of different Health Centres such as Community Health Centres, Primary Health Centres, Homeopathic Centres and TB Clinics along with their attribute data to help the management of health services in the district.
Mr. R.C. Kandpal, Sub-Divisional Officer, Department of Forest informed that they have digital database of the Haldwani Division and they need the digital database for other Divisions of Nainital. Apart from the digital information of roads and villages, digital maps of forest species, working plans, forest fire and crew stations would be very useful for forest conservation.

Prof. G.L.Shah, Department of Geography, D.S.B.Campus Nainital, highlighted the significance of GIS in research, along with remote sensing data for change detection.
Mr. R.S. Chauhan, Chief Development Officer, Nainital said that GIS has wide applications in post disaster management activities, election management, watershed management and in planning of various natural and human resources. He manages different departments and has prepared a document of need assessment with hopes for a combined decision support system.
The workshop was sparked in part by the embrace of GIS by the Plannning Commission of India for planning at the district, state and national levels. Efforts are underway now for capacity building in Nainital, with each institution present urged to start a GIS cell within their department along with sending a few people for training at the NRDMS Centre in Almora. In addition, a central GIS cell will be established to develop the District GeoPortal under the District Magistrate, with a District Coordination Committee acting as advisors.
Source: This summary was compiled from a report provided by J.S. Rawat