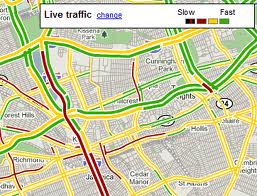 This crowdsourcing approach has enhanced the mapping, traffic, transit and directions features for these smartphone users. The more people that participate, the better the traffic data becomes for everyone.
Google now offers traffic data in more than 50 countries, most of them added in the last year. The live traffic coverage in U.S. cities, China and many European countries have been increased just recently.
With the live details, Google's mapping apps can choose a route for users based on its knowledge of traffic conditions when they start their journey. The detailed view of time and motion provides much more realistic drive times, and can aid efficiency and overall traffic flow by providing the most expeditious routes.
In addition to live traffic, Google Maps also contains public transit schedules for more than 500 cities worldwide. With this information, users are able to make informed decisions about time to destination regardless of transit choice.
This wave of sensor-informed mapping is in its infancy, with many more inputs anticipated for such changing variables as weather and environmental impacts. Google has successfully shown the way with their tight integration of handheld sensors, on-board applications, and collective wisdom from the crowd. With increasing competition from both Apple and Amazon, the services and mapping battles on consumer devices are just beginning.