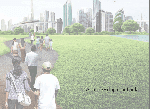 Asian cities have drawn more than a billion residents from 1980 to 2010, and that trend is expected to add a billion more by 2040. With the heightened populations comes crime, pollution, slum living, and social inequality. While large investments have been made on new infrastructure, the report highlights the strains on existing infrastructure and the need to design new approaches given global change. Impacts on human health, with degraded environment, air pollution, and rising sea levels taking a toll on rising populations.
Environmental sustainability goals include:
Reducing the threat of deforestation in the region, and improving forest health.
Reducing the amount of slum dwellers to improve conditions and decrease the environmental impact of these areas without infrastructure
Improve water resources and sanitation
Reduce carbon dioxide emissions
The report highlights the gains that cities could see by applying new green technologies. There are also policy suggestions such as creating a carbon tax, charging congestion levies or collecting more taxes to invest in green infrastructure.
The report highlighted existing infrastructure in the region, including:
road networks densities that are highest in China and India, accounting together for more than 60% of the region's total, with Japan at 10% and Australia at 6%
electricity infrastructure in the region that produces 40% of the world's total energy, however with a high reliance on coal
an electrification rate that is improving the number of connected households to both electricity and broadband Internet, although some countries still lag far behind
In the green Asian urbanization strategies, conservation and efficiency improvements are deemed essential, considering the combined speed and scale of Asia's urbanization. Renewable resources and new technologies are important in order to benefit from the region's late comer advantage. As Asia learns from the mistakes of others and its own past, people are increasingly recognizing that urban growth must be inclusive and sustainable.
Read the full report here.