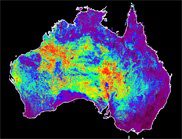 The maps debuted at the 34th International Geological Congress in Brisbane.
Following the launch, Professor Yasushi Yamaguchi, head of the Japanese ASTER science team said, "Congratulations on your successful launch of the ASTER geoscience maps of Australia. It is a very good example of the ASTER contribution to the geoscience community and I am very proud of being an ASTER science team member".
Dr Mike Abrams from NASA and head of the US ASTER science team added, "Congratulations on an impressive project. I do like your idea of producing global geoscience maps, similar to what you have created for Australia".
The Australian ASTER geoscience maps can be obtained from the AuScope Discovery Portal, the Western Australian Centre of Excellence for 3D Mineral Mapping and Geoscience Australia. State and territory coverage can also be acquired from the respective government geological surveys.
Source: CSIRO