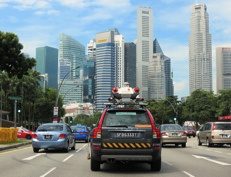 The data was produced having several purposes in mind:
For practical applications, the approach generated a most complete campus model, including terrain, buildings (partially) with facades, roads, other infrastructures like sports facilities, vegetation, etc.
For research, the approach provided a data set available for advanced studies, which can both serve to test newly developed algorithms and procedures and as a basis for quality control
This is the first time that such data are being combined in an effort to make best use of information contained in aerial and terrestrial images as well as in terrestrial point clouds. The processing of the data is quite challenging and requires new approaches to 3D modeling from multi-source data.
The Mobile Mapping project was performed by ARTESCAN – 3D Scanning, a company based in Portugal. The system consists of a RIEGL VMX-250, including two RIEGL VQ-250 scanners and a IMU/GNSS unit. This is amended by two video cameras and an odometer. The system provides a measuring rate of up to 600 kHz and online waveform processing.
The MMS at work in Singapore. Courtesy ARTESCAN

An intensity-based falsely coloured point cloud of the CREATE building of SEC-FCL at NUS campus, produced by the MMS.
While raw data acquisition both with UAV and MMS is quite efficient, the true challenge lies in adding value with the derivation of precise, reliable and complete models. Here the fact that UAV aerial images and terrestrial point clouds and images have been collected at different times (about 3 month time difference) will pose an added complication to an otherwise already very demanding problem.
We also must note a few other problems, which are inherent to this kind of application and technology. The NUS campus is a very complex object, with up to 75 m internal terrain height differences, some very high and many complex buildings and extensive tropical vegetation, interfering in many places with man-made objects. The blocking of signals in GNSS data acquisition poses a serious problem, which cannot be fully compensated by the other sensors on board (IMU and odometer). But by combining the processing of the terrestrial MMS data with that of aerial UAV images, the drift of the point clouds (caused by the uncontrolled drift of the IMU system) can be compensated. The usual addition of more GCPs determined terrestrially can thus be avoided.
Since the directions of the roads on campus vary greatly within small areas, the optical axis of the MMS cameras will point in all, often in unwanted directions (e.g. towards the sun). Thus the resulting image acquisition is very problematic and the image quality poor in many cases.

Intensity-based falsely coloured point cloud of facades of shop houses of Little India, acquired with the MMS.
In another effort 6.4 km of Little India (Rochor) was also recorded by the MMS. The above image shows a small example of the collected point clouds, indicating the high spatial resolution of the facades of shop houses. This data will be combined with a 3D roof landscape model, which was already derived from IKONOS stereo satellite images.
—————————————————————-
Prof. em. Dr. Armin Gruen, Principal Investigator on the Simulation Platform of the SEC-FCL project (Singapore-ETH Centre for Global Environmental Sustainability – Future Cities Laboratory), 1 CREATE Way, CREATE Tower, Singapore
We would like to acknowledge the very good cooperation with the company ARTESCAN – 3D Scanning Lda., Portugal, which was responsible for the MMS raw data acquisition in Singapore.
This story is the second in a series, see First Civilian Photogrammetric UAV Flight Over Singapore