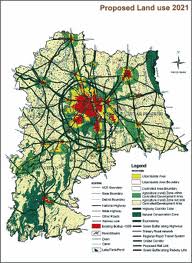 The study will map existing urban land use and land cover changes from 1999 through 2012, over an area of 33,578 square kilometers that includes 16 districts and four sub-regions. The mapping effort will capture land use patterns, transportation infrastructure and green cover. In addition to these report findings, the NCRPB has set up additional study groups to look at demographic and economic profiles, water and groundwater, among other planning factors.
The master plan is an ongoing effort, with recent changes to planning priorities that include:
an increase in housing density
a goal of 16 percent green space in urban areas
new environmental sustainability targets
locations for solid waste and sewage treatment
transportation plans for bus, rail, expressways and new roads as well as regional rapid transit
The effort will report and quantify the implementation of the Regional Plan-2021, and will help the planning board finalize land use plans and incorporate changes.
Sources: The Hindu, Times of India