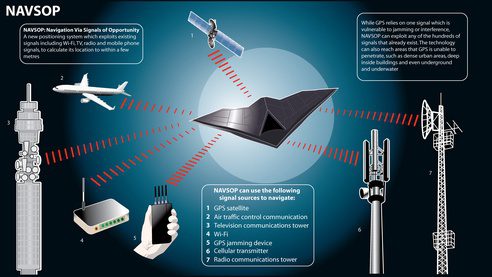 The new system is known as Navigation via Signals of Opportunity (NAVSOP), and it promises a resistant and adaptable system that learns from signals it receives to improve the accuracy and reliability of the position over time. An amusing twist is that the system can even take in signals from GPS jammers in order to exploit those for position on top of all the other signals.
BAE emphasizes the low barrier of the system, because all the infrastructure to make it workable is already in place. There is no need to build a costly network of transmitters and hardware, and the system can be integrated into existing GPS receivers to enhance their performance and accuracy.
The system works in dense urban areas and deep inside buildings, where GPS fails to work reliably. It also can reach far into remote areas by picking up signals from communication satellites and other signals.
"The potential applications of this technology are already generating huge excitement in both civilian and military circles," said Ramsey Faragher, a principal scientist at BAE Systems Advanced Technology Centre. "This research is a great example of BAE Systems working closely with potential customers to not only improve the performance of existing technology, but also tackle their weaknesses head on and find innovative ways to reduce or eliminate them."
The research has generated a great deal of interest, for its resilience as well as its ability to extend the range of positioning into areas where GPS has struggled. The system is now commercially available, and will likely be making waves as a strong alternative and enhancement of existing positioning technology.

Source: BAE Systems