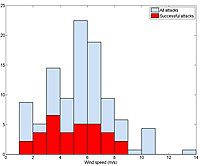 Using wind speed and wave height data from the European Space Agency's GlobWave project, climate factors were examied alongside piracy patterns. Because of the security problem, there is very little in situ data in the Indian Ocean, which makes the satellite-based data uniquely valuable. The study found that there is a very strong correlation between successful pirate activity and wind and wave height.
A significant drop in pirate activity during the summer monsoon season when wind and wave heights are usually bad. This correlation is probably due to the difficulty of launching pirate boats from beaches when the waves are high.
"What we like about the GlobWave database is that it provides different data from a number of altimeters all in the same format with a very short turnaround time between collection and being available online," said Sally Garrett, co-author of the paper.
"In the NZDF we have very small teams of people work on projects, so the ability to access an external database rather than develop one in house enables us to include data from a greater number of platforms and analyse a longer time series."
Source: ESA