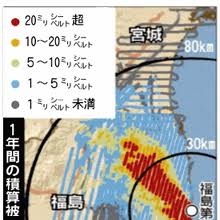 The System for Prediction of Environmental Emergency Dose Information (SPEEDI) is the mapping tool that is operated by the Education, Science, Culture, Sports and Technology Ministry that estimates where radioactivity will spread based on data and sensor inputs. The computer model measures radiation at different distances from the nuclear accident, and helps track the spread. The tool was returning alarming predictions that weren't shared with the Prime Minister because it was feared they weren't reliable enough, instead sending officials to manually measure readings, and wasting time that could have limited the public exposure.
Data provided by the system was in fact shared with the U.S. Military for their assistance, prior to it being made available to the public. While the incident occurred on March 11, it wasn't until early May that the data was released and shared with the public. Without official guidance, many evacuated away from their homes into areas with higher concentrations of radiation due the the prevailing winds.
A report from the panel investigating the Fukushima disaster admit that a lack of instructions, and lack of awareness, put people into harms way. The three month gap of SPEEDI data and map measurements would have helped greatly in planning evacuation routes and safeguarding the public. Residents of the Fukushima area are now calling for criminal charges to bought against Tokyo Electric Power Company (TEPCO) executives that didn't plan for earthquakes and the threat of disaster.
While there are many lessons to be learned from this year-old event, the transparency and disclosure of data in a timely manner is perhaps the most pressing one. Clear responsibilities for the data, with a central point of trust, are imperative in the face of any disaster.
Sources: 4th Media, JiJi Press, The Japan Times