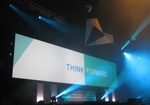 Juergen Dold, president of Leica Geosystems kicked off the Geosystems track with news that 70% more attendees were there for this content than last year. The focus of the presentation was all about making the digital world real, transforming the captured data to design the determined change. When the design is done, it goes back to measurement systems that improve the efficiency of building the design.
With the integration of Intergraph into Hexagon, the Z/I business and Leica Geosystems business have come together on aerial mapping cameras. Where in the past they have competed for companies, they haven't necessarily competed on application. Now they have digital aerial cameras that solve a number of solutions, and they are adding a new oblique mapping sensor for the creation of 3D models.
Juergen then highlighted different application areas, with new technology that has been applied to old problems.
Mining & Agriculture — mines are made more efficient and safer, and are moving toward autonomous mining equipment with remote control. More is also being done with automating agriculture.
Asset Management – for field work a new mobile device, the Leica Zeno 5, is a handheld that works well in dense canopy for forestry applications
Surveying and Construction – Leica FlexLine Plus is a new Total Station in the midline range for surveyors. They also hust launched a new line of iCon (intelligent construction) hardware designed for construction purposes, with software for online and offline processing to simplify for those that aren't surveyors.
Interior Finishing – with the lightweight Disto laser rangefinder and laser level, it is a rugged and waterproof device that brings precision to anyone for job site use with greater speed and accuracy.
Ken Mooyman, president at Leica Geosystems NAFTA, then took the stage to discuss customer challenges and projects, and how the technology solves the issues.
the Mexican oil company Pemex needed to take out old desalinization technology on their offshore platforms, using scanners and CloudWorx technology that works within the construction design tools, cutting the time from 12 months to 5.5 months
in Edmonton, with the largest expanse of urban parks, maintenance is a challenge, where the City Parks department has 460 parks to manage and trees to inventory. Leica geosystems worked on a custom solution with GeoMedia running on the CS25 rugged tablet to greatly streamline an integrated workflow
in the Gulf of Mexico, the survey company Fenstermaker is using lessons learned after hurricane response to be applied on offshore oil platforms
Mustang Engineering was contracted to work on a $500 million oil and gas processing plant, where an intelligent 3D model of as-builts was needed to then model the new facility
According to Mooyman, the integrated solutions are designed to see the unknown sooner, more clearly and quicker than ever before.