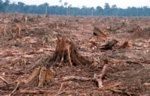 The project will provide a public view into change in the country's land cover, land use, biodiversity, and naural resources, compiled by a large number of coordinating agencies over decased. the aim is to highlight the loss over time as well as the value of the resources.
The rate of forest loss has been dramatic, with more than half disappearing since 1985. By illustrating the loss over time, the impacts hit home, with habitat quickly shrinking and disappearing for a large number of species. Chinese and Indonesian conglomerates are quickly depleting the forests for pulp, paper and palm oil, with adverse impact on multiple species.
"People love maps. So it's natural that spatial Information is our best tool in saving our last tropical forests. The Eyes on the Forest-Google Maps Engine project puts map-making into our hands so it's no longer the stuff of specialists," said Carter Roberts, President and CEO of World Wildlife Fund. "Our conviction is that if we empower people with the information, the forests of Sumatra cannot only be saved, but we can restore them. So instead of rhino, orangutan and tiger numbers getting smaller each year, they get bigger. That's our dream."
With the grant, and use of tools, Google hopes to add transparency. The tools will be interactive, allowing users to build their own maps to display the loss of forest over time, species distribution, protected areas, and conservation and restoration priorities.