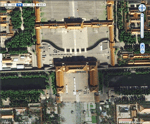 The announcement came as the country celebrated the delivery of high-resolution satellite imagery from the Ziyuan III satellite that was launched on January 9. As of May 18, the satellite has collected and delivered 45.79 million square km of imagery of the globe. Data from the satellite populates the MapWorld website, as well as being used for mapping, aviation management, and natural disaster prevention.
China has been aggressively launching earth observation satellites, as reported earlier, and plans to launch a number of additional high-resolution satellites in the coming years. With this growing constellation of satellites, and a coordinated and centralized effort to catalog, monitor, and analyze this imagery, China could make breakthroughs with their planned system.
There has long been a global vision for an integrated Digital Earth, with China very active in the International Society for Digital Earth (ISDE). This vision is supported by investment and actions that are quickly pulling together a world-leading capacity for monitoring and communication. Just this March, China completed an earthquake monitoring system with more than 260 GNSS observing stations and 2,000 part-time observing stations for geoscientific monitoring at an investment of $83 million USD. China is also expanding their Beidou satellite navigation service, with the constellation of satellites set to cover all of the Asia-Pacific region by the end of the year.
The combination of high-resolution imagery, their own GNSS constellation, other monitoring sensors, and a coordinated digital base map, the country is putting all pieces in place for robust geospatial awareness.
Source: China Daily, ISDE