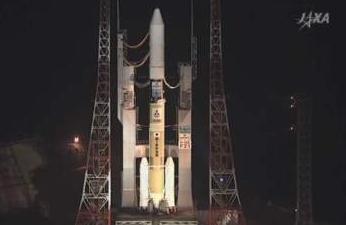 This marks Japan's first comercial launch of a foreign satellite, with Mitsubishi Heavy Industries as the private company in charge of the H-2A rocket. Mitsubishi hopes to compete with launch vehicle providers from other countries.
The Arirang-3 high-resolution satellite is part of the KOMPSAT project, and was built and developed by the Korea Aerospace Research Institute (KARI). The satellite is designed specifically for the capture of inputs to geographic information systems for environmenta, agricultural, and oceanographic monitoring.
The Global Change Observation Mission 1st-Water satellite (GCOM-W1) has a microwave radar to observe precipitation, water vapor, wind, sea water temperature, snow depth, and water levels on land. The satellite is also known as "Shizuku", whcih means drop of dew in Japanese. This satellite is one of two in the GCOM mission, that also includes GCOM-C, which is tasked with monitoring climate. This is a 10-15 mission to study climate and water circulation at a global scale, with teh satellites build and developed by JAXA.
The key instrument on GCOM-w is the Advanced Microwave Scanning Radiometer that observes naturally emitted microwaves from earth, with an ability to measure water and sea temperatures to an accuracy of 0.5 celsius.
Asia continues to be a bright spot in earth observation satellite development, and deployment. With these two satellites, the region gets much needed inputs to help address issues of global change.