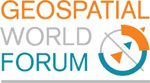 Leading off this session was an address by Jack Dangermond, founder and president of Esri. The fact that our world is rapidly changing, creates many challenges, and Dangermond finds this complicated change both challenging and concerning. With new levels of cloud GIS and mobile computing, we can broadly spread the power of GIS to create a spatially literate population for better understanding of our planet.
Improving understanding is the foundation for action. The creation of geospatial intelligence for land use and resource planning as well as business efficiency is being accelerated by software as a service. The convergence of technologies into cloud GIS connects the traditional geospatial professional with the world. An online and accessible environment is more directly connected now with new sources of data, including crowdsourced information.
The platform provides a framework for more collaborative work. Those that measure and manage, visualize and analyze, will have a common database with many contributors from many sources, and intelligent web apps and maps will create a pervasive understanding platform.
Education is one of the building blocks to bring geospatial technology to a billion+ people, and so is outreach to nonprofit organizations. Elevating the use beyond millions of users.
The next speaker in the session was Ola Rollen, president and CEO of Hexagon, an international group of companies involved at all scales of measurement technologies. Rollen spoke about issues that are keeping us from expanding to millions of people, making the analogy to the music industry and the ability of today's music platforms to go viral and reach millions of people in just a few days. In the geospatial industry we have all the genres to create geospatial music, but we don't have the reach because of difficulties to combine and promote our technologies.
The opportunity for Dynamic GIS, with real-time measurements and updates, is the vision. Today, customer data is locked in and away from sharing, where we don't mix surveying, photogrammetry and GIS. The key to making the technology available for billions is to break down department wall according to Rollen.
Hexagon believes that GIS, CAD, remote sensing, photogrammetry and surveying are all coming together. Fusing that information in a dynamic geospatial engine is the vision, where barriers are removed and all spatial inputs can be mixed and served to those in need. Dynamic tracking and reporting is now being combined with business information to improve operations
Hexagon is working on the mergers of technologies, and are working on a collaborative geospatial ecosystem with workflow solutions. As an industry, Rollen said we must embrace change and incorporate social media, mobile computing, and the cloud as enablers of broader use. Recreating the real world into a dynamic digital world, and back, is the goal.
The vision of Bentley Systems was presented by the company's CEO, Greg Bentley, with a focus on sustaining infrastructure for improved quality of life. The connection between improved infrastructure performance to both the economy and the environment was made with several examples.
Semantic simulation is the next wave, according to Bentley, with the idea of a semantic city, where all the networks interrelate, and where computing is connected directly to our infrastructure. An example is water and wastewater management improvements where we save water and energy through better connections to performance.
3D city modeling, with 3D property records that include subsurface infrastructure, is the vision of Bentley. Laser point clouds are increasingly becoming an important input to this model. The integration of this detailed city model with planning, design and construction helps us all work smarter. A demonstration of augmented reality to visualize and virtually inspect infrastructure was presented at the close, showing how these technologies all come together to improve our understanding in real time.
The closing speaker for the session was Paul Cheung, director of the United Nations Statistics Division, representing a government role amidst the technological innovation. The government is working with industry to advance the global geospatial agenda, enhancing the availability of geospatial information.
Many have mentioned that perhaps geospatial technology should be left to the private sector, particularly in the face of government cuts, but that vision in shortsighted as it doesn't factor in commercial motives and the potential. Reliable and credible geospatial information is the goal and responsibility of government, where they have the mandate and accountability to maintain and deliver national geospatial information.
The UN is now fostering a Global Geospatial Information Management initiative, a committee of experts to make joint decisions and set directions on the production and use of geospatial technology worldwide. The group aims to ensure that this data is sustainable, credible, authoritative and available. The focus of the group is not only standards for the developing world, but also to build the capacity of developing countries so that the technology will spread more broadly to reach more countries and individuals.
Geospatial technologies touch billions of lives now, and they will certainly become more aware as the technology becomes more accessible.