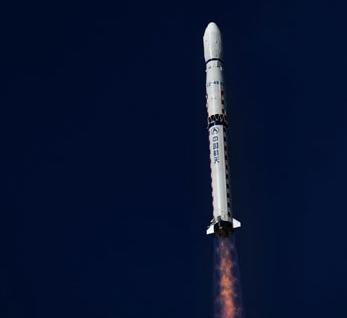 The Tianhui 1B satelite that launched on Sunday, May 6, was designed for land resource surveys and mapping by the China Aerospace Science and Technology Corp. (CASC), and follows the first Tianhui 1 satellite that was luanched in August 2010.
The Yaogan Weixing-14 is one of a long series of remote sensing satellites with different sensing capabilities that include:
Yaogan Weixing-1, launched from the Taiyuan Satellite Launch Center on April 27, 2006, and equipped with space-based synthetic aperture radar (SAR)
Yaogan Weixing-2, launched from the Jiuquan Satellite Launch Center on May 25, 2007, a military electro-optical earth observation instrument
Yaogan Weixing-3, launched on Nov. 11, 2007 with another SAR instrument
Yaogan Weixing-4, launched on December 1, 2008
Yaogan Weixing-5, launched December 15, 2008 with a second-generation electro-optical sensor
Yaogan Weixing-6, launched on April 22, 2009, with a second-generation SAR satellite with a spatial resolution of 1.5m.
Yaogan Wexing-7, launched on December 9, 2009
Yaogan Weixing-8, launched on December 15, 2009
Yaogan Weixing-9, launched March, 2010, with three satellites flying in formation
Yaogan Weixing-10, launched on August 9, 2010
Yaogan Weixing-11, launched on September 22, 2010
Yaogan Weixing-12, launched on November 11th, 2011
Yaogan Weixing-13, launched on November 29, 2011
These launches also closely follow the launch of two navigational satellites on one rocket earlier this month as part of an ambitious space program plan to launch 100 rockets and 100 satellites by 2015. To meet that ambitious timeline, the country will need to launch 20 rockets each year. In order to cut down on costs and increase efficiency, there are plans to launch more than one navigation satellite per rocket, with the goal of sending four satellites simultaneously in orbit at the same time.
An opinion article in The Economist this week, warns of the lack of earth observation capacity where, "the world will feel its way into the future blind and ill-prepared." The feature remarks on the capable earth observation capacities of countries worldwide, including India and Brazil, that will help fill the gaps. The budget constraints and a growing need to monitor global change, point to the need for new levels of international cooperation.
Sources: NASA Spaceflight.com, ZeeNews,