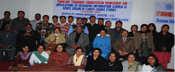 DAY FIRST
In the inaugural session Prof.V.P.S. Arora, Vice Chancellor, Kumaun University highlighted the impact of climate change on livelihood and need of consciousness towards its ill effects. He said that Geographic Information Science (GI Science) has very powerful technologies by which impacts of climate change can be detected and future trend of climate can be modeled. Prof. Arora underlined the need for development of human resources in GI Science and remote sensing and informed that for this purpose the Kumaun University has started two years Master's Degree in Geographic Information Science. Dr. Bhatt, Director, Vivekanand Parvataya Krishi Anushandhan Sasthan said that the agricultural cycle and production both are is being badly effected by the climate shocks. Dr. Bhatt gave a detailed accounts of impacts of climate change both in agricultural cycle and production. Dr. Bhatt said that agricultural production is being drastically reduced due to climate shocks and he underlined the need of applications of Geographic Information Science for understanding to impacts of climate change induced erratic and unusual behavior of rainfall.
Participants and resource persons of the Training Workshop
In the technical session I, Dr. P. Bisht, Department of Physics, Kumaun University SSJ Campus Almora explained in detail about the role of GIS and remote sensing in understanding the greenhouse impacts in global warming. Dr. Bisht said that our planet is made habitable by the presence of certain atmospheric gases which trap long-wave radiation emitted from the Earth's surface, giving a global mean of 15oC as apposed to an estimated (-) 18oC in the absence of an atmosphere. The concentration of carbon dioxide, methane and nitrous oxide are all known to be increasing, and in recent years, other greenhouse gases, particularly chlorofluorocarbons, have been added in significant quantities to the atmosphere. In technical session II, Prof.B.S.Kotlia demonstrated in detailed about the significance of cave deposits (i.e., stalactites and stalagmites) in understanding the past climatic conditions and in projecting the future trends.
DAY TWO
In technical session I, Prof.J.S.Rawat, Director, Centre of Excellence for Natural Resources Data Management System in Uttarakhand, presented a detailed account of application of remote sensing in the study of shifting of vegetation line towards higher altitudes and depletion of snow cover area due to global warm through NDVI (Natural Data Vegetation Index) and NDSI (Natural Data Snow Index) techniques. Based on the remote sensing data, Prof. Rawat demonstrated that the snow cover area in Uttarakhand was about 17.98% (or 738.34 km2 ) less in October 1999 compared to October 1990, i.e., within a period of nine years. Dr. Rawat also demonstrated a shift of 200m in vegetation lines in Uttarakhand during a period of one decade, i.e., 1990 to 1999 due to global warming and also informed that on an average, the vegetation line in Uttarakhand is shifting to the higher elevation at the rate of about 22m/year.
Prof. S.S.Bargali, Department of Botany, Kumaun University, in technical session II described in detailed about various impacts of climate change in biodiversity, i.e., flora and fauna both, and advocated applications of GIS and remote sensing techniques used in detecting impacts of climate change in biodiversity. In session III, Applications of remote sensing in forestry and hydrology, and in change detection were illustrated by Prof.D.N.Pant of Indian Institute of Remote Sensing Dehradun. Dr. Pant also explained in detailed that how the remote sensing is useful in understanding atmospheric temperature dynamics, in general and in detecting in urban heat islands, in particular. Role of Biotechnology in mitigation and adaptation of climate change impacts were advocated in technical session IV by Dr. Veena Pandey, Department of Biotechnology , Bhimtal Campus of Kumaun University, Nainital.
DAY THIRD
The technical session I, Prof.D.N Pants demonstrated applications of high resolution remote sensing data in the study of vegetation species mapping and in detecting disease in trees and plants. Dr. Pant suggested that the high resolution satellite data are helpful in detecting various diseases, phonological changes in trees and plants caused by climate change. Impacts of climate change in water resources and their quality were discussed in detailed by Prof. N.S.Bhandari, Department of Chemistry, Kumaun University in technical session II. Prof. Bhandari said that chemistry of water greatly depends upon the temperature and higher water temperature and variations in runoff due to climate change are likely to produce adverse changes in water quality. He demonstrated that the water quality parameters like pH, Dissolve Oxygen (DO), Total Dissolve Solids (TDS), and cations and anions concentrations has direct relationship with temperature.
How trade, commerce and tourism is being adversely effected by frequently occurring cloudburst and erratic behavior of rainfall caused by global warming was discussed in detailed in the III session of the workshop by Prof.K.C.Joshi, Department of Commerce of Kumaun University. Prof.Joshi said that retail and other commercial services have been often neglected in climate-change impact studies and informed that climate change has the potential to effect in supply chain, including the efficiency of the distribution network, the health and comfort of the workforce and pattern of consumption.
Perishable commodities are one of the most climate-sensitive retail markets, Prof.Joshi added and underlined the need of application of GIS and remote sensing technologies in this sector. In the last IV Session, feedback from the participants were taken to improve the quality of training workshop. Overall, participants did appreciate about the training material, faculty and organization of the workshop, and the following four recommendations emerged by concusses that:
training workshop on application of GI Science should be for longer period,i.e., orientation workshop for minimum 7 days and advanced course for minimum one month; and
training workshop on application of GI Science should be organized discipline wise, e.g. GI Science Applications in Botany or Geology or Archeology or Sociology etc.
hands-on training workshop should be organized on software wise, e.g., hands on in Arc GIS or GPS or ERDASS etc. and
to develop human resource GI Science should be in ducted in education since the school level.
At the end Prof. Vijaya Dhondiyal, Coordinator of the workshop presented the vote of thanks expressing gratitude to all participants making this path-breaking event a success.