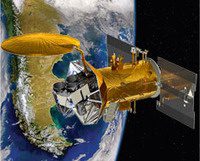 The report follows a similar effort five years ago, with the title, "Earth Science and Applications From Space: National Imperatives for the Next Decade and Beyond." This previous decadal survey drew a consensus of recommendations for the necessary capacity for our earth observation program.
"The projected loss of observing capability will have profound consequences on science and society, from weather forecasting to responding to natural hazards," said Dennis Hartmann, professor of atmospheric sciences at the University of Washington, Seattle, and chair of the committee that wrote the report. "Our ability to measure and understand changes in Earth's climate and life support systems will also degrade."
The report does commend NASA for some successes, as well as their effective international partnerships that have helped move forward some missions. However, it also laments that NASA's earth science program will have inadequate funding the foreseeable future, and that NOAA's polar environmental satellites are moving slowly. The report also faults the two organizations for not coming together more closely on operations in order to reduce costs for each.
In summary, the report calls for an overarching national strategy of Earth observation that is larger than the mission of either NASA or NOAA. The need for a broader strategy and budget allocation falls to the level of the White House Office of Science and Technology Policy.