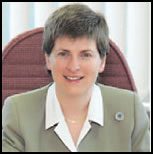 The work on the report was completed this October, with fieldwork and evidence gathered between Oct. 2010 and June 2011. The report details Australian State and Territory capabilities, as well as the degree of collaboration between the Commonwealth and State/Territory government agencies. Larwence visited Australia on two separate occasions, and conducted interviews and research in Great Britain. Speaking with her recently, the work was largely a personal effort of hers, outside of the hours of work at Ordnance Survey.
While the report recognizes and commends key existing organisations that are active in the geospatial governance structure in Australia, including the Office of Spatial Data Management, ANZLIC and a company, wholly-owned by the governments of Australia, PSMA Australia Limited1, it also calls for reforms to greater streamline these organizations. The aim is a 'Whole of Government' spatial capability for Australia.
The report also lays out three areas of policy that need to be addressed in order to successfully improve the country's spatial capability; the information policy, the spatial policy and the geospatial policy. Lawrence asserts that its important for the Australian Government to provide detailed guidelines for the collection, maintenance and dissemination of all public sector data in Australia. Clear guidelines are seen as an imperative.
In reply, the Office of Spatial Policy (OSP) stated that it will be seeking to establish, in conjunction with ANZLIC—the Spatial Information Council, a spatial policy framework over the next two years. The framework will, "articulate the key role that Governments have in ensuring the provision of easy access, ubiquitous, relevant, standards-compliant, fundamental and authoritative datasets."
Open access to a fundamental layer of spatial data is on the list of goasl, as is practical, creative commons licensing. The Australian Government has expressed that it will provide leadership 
and support to the industry, academic, research and education sectors with the aim of encouraging Australia's spatial innovation and supporting continued growth in the spatial sector.
Through this give and take, Vanessa Lawrence has provided valuable guidance that will likely be of much use to other national mapping agencies.
You may download the reports at the following links: