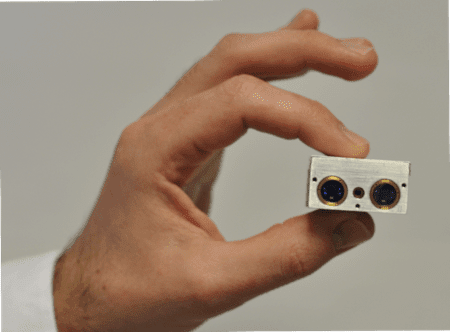 "Twenty years ago it needed a box the size of a biscuit tin to accommodate the laser technology which could measure objects within 100 metres every few seconds," says MDL founder and chairman, Steve Ball. "Incorporating a micro laser such as ours in mobile phones would mean that people working in many industries, such as civil engineering, construction and surveying, would no longer need some types of hand-held laser technology."
In addition to this new micro laser, MDL offers a number of laser measurement and surveying systems. There is a suite of sensors and systems for underground applications such as quarry work and mining, including a cavity scanner on a pole and scanners to map boreholes and voids. There are also maritime applications, such as their Fanbeam system that allows a vessel to measure close proximity to a platform or dock for precise maneuvers. The company also offers 3D modeling tools for mobile platforms, such as roadway scanning or the scanning of beaches for precise profiling.
While the development of this technology is in its early stages, it certainly has great potential for a wide range of mapping applications. The laser, coupled with a good quality camera, would provide a whole new means of precise measurement and reality capture for a whole host of applications from the more casual application user to precise mapping and data collection from a very portable platform.
Many have imagined a future where we can all capture precise positions in our hands, with very little training. Now that these tools are starting to be developed in earnest, it raises the implications to a whole new level. This development has implications for surveying professionals, vendors that sell commercial-grade positioning hardware, software developers that can incorporate high-resolution 3D scans into their software, and the user that can incorporate 3D capture deeper into their operations for improved efficiency.
It will be curious to see what handheld OEM manufacturer is the first to incorporate this laser into a multi-functional handheld device. What will also be interesting is to see what kinds of applications this capability targets, and the development of whole new workflows and application areas based on this new capability and its integration with other sensors.