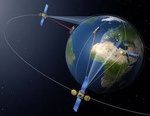 Typical imagery data transfer rates have been hours to days in duration for most imaging satellites or other imagery acquisition platforms as it's difficult to move these large data files across broad geographies. The SpaceDataHighway offers improvements through the use of laser-based communication satellites that can transfer data at speeds up to 1.8 GB per second, and transfer 30TBytes of data per day. ESA's contracted capacity for the four Sentinel satellites in GMES take up just a small portion of this capacity, with a full 24 TB available to other clients. Given the speed and data capacity, you can understand how huge data sets can be sent in a short period of time, as well as the satellite network's capacity to serve a great number of satellite platform customers simultaneously.
This network of imagery serving satellites will be the first such commercial satellite communication relay system, although NASA's Tracking and Data Relay Satellite System (TDRSS) takes a similar approach to the relay of data from the International Space Station. In NASA's configuration there are a series of geosynchronous satellites that relay to a ntework of ground stations. However, in the case of the SpaceDataHighway, the communication length is far more robust using the latest satellite telecommunications technology.
In addition to the quick data download speeds, the network of satellites also provide high-speed tasking of satellites in order to greatly speed the satellites ability to acquire targeted imagery. With today's rapid change, and pace of life, this new high-speed collection and custom tasking makes earth observation satellites much more responsive to demands. Such applications as climate change, illiegal immigration, drug smuggling, fishing violations, human trafficking, piracy, natural disasters, transnational crimes, wars and confict, and climate change have been named as potential markets for this high-speed satellite imaging capacity.
The communications component comes from TESAT SpaceCom, a fully-owned Astrium subsidiary, with their Laser Communication Terminals (LCT). The LCT technology is aboard TerraSAR-X, and has been tested to beam data to the U.S. satellite NFIRE, achieving blazing data speeds of 5.5 Gbit per second. With the application on the SpaceDataHighway the data rates are slower, but the distances are much greater. With the prior test, the maximum distance was 5,000 km, and with the constellation the distances will reach 45,000 km.
The first satellite is scheduled for 2014 launch, with a second slated for 2015. With these two satellites in place, the SpaceDataHighway will have near global coverage for satellite data transfer. A planned extension of the system with two satellites in the 2018/19 timeframe will ensure redundancy as well as continuous global coverage. With the high data transfer rates and global connectivity, this satellite constellation will also prove useful for tracking the precise location of satellite orbits.
The announcement of these plans went out in early October, and since then the company has received a good degree of interest from imagery data providers that want to make use of this data transfer service. The unmanned aerial vehicle (UAV) market has been one of the most eager with the high speed transfer allowing for the transmission of full-motion video at full rate without bandwidth choking. Astrium itself will benefit from these data transfer rates, particularly with their TerraSAR-X high-resolution radar satellites that have file sizes that are larger than high-resolution imagery.
Astrium is seeing, and anticipates, a greater need for monitoring for such applications as maritime awareness, environmental protection, emergency response, and military and security operations. The prospect of real-time imaging across the globe from multiple space-based imaging points speaks to all-new insights into evolving events.