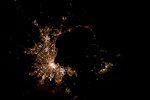 As global populations continue to urbanise at a rapid rate, historical nighttime imagery provides an interesting insight into how these changes have occurred. Nighttime brightness data also helps to illustrate seasonal population swings, information that other types of satellite data such as images of housing density cannot detect.
Nighttime imagery has been used in studies to estimate population, correlating light intensity to population density. With comparison to daytime imagery, one can also discern residences compared to employment centers, and the degree to which this day and nighttime shift is a factor, with insight into mobility.
Researchers at Princeton University have even studied nighttime imagery to pinpoint disease hotspots, revealing the population boom that typically coincides with seasonal epidemics in Africa. In urban areas with migratory populations, the night images indicate where people are clustering by capturing the expansion and increasing brightness of lighted areas. The changes accurately indicate population density fluctuations, and propensity for epidemics, offering a new means to monitor outbreaks.
With the ability to capture the use of electrical power over broad geographies, nighttime imagery is also an input into disaster assessment. Comparisons of normal use can be compared to post-disaster imagery to determine where weather events have had the greatest impact.
The new NightPod sensor offers astronauts the ability to program planned shots based on orbit and attitude, running on its own for up to six hours. Already, the quality of photos far exceeds previous missions, and given the added clarity comparisons of the imagery can start to be made over time. This new sensor adds to available nighttime satellite information captured by the U.S. Air Force Defense Meteorological Satellite Program's Operational Linescan System (DMSP).
Resources:
Night-time Imagery as a Tool for Global Mapping of Socioeconomic Parameters and Greenhouse Gas Emissions,