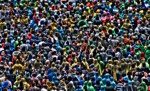 Contributions take multiple forms, with real-time feeds coming via many sources, and in many different situational contexts. Mobile, GPS-enabled, devices provide the bulk of this input. Much of this geocoded data is freely available for aggregating and visualizing within a map by intrepid developers, leading to new levels of insight, particularly with developing situations.
The mainstream term of crowdsourcing is defined as, "the act of sharing a job or function that was once the domain of a specific agent with distributed masses through an open call." Michael Goodchild coined the term volunteered geographic information (VGI) as, "harnessing of tools to create, assemble, and disseminate geographic data provided voluntarily by individuals." And, given the proliferation of smartphones as sensors, participatory sensing should also be considered as it, "tasks everyday mobile devices to form interactive networks that enable public and professional users to gather, analyze and share local knowledge."
There are distinctions between each of these terms. With crowdsourcing, the definition revolves around project-based work. With VGI the focus is on mapping by a volunteer force. With participatory sensing, the device becomes an enabler. These distinctions are interesting to consider, but a hard definition or thoughts of one term winning over the other isn't wise as the technology is still evolving rapidly.
Mapping is a classic high-intensity task that has been at the forefront of harnessing the crowd, even prior to the Internet. The needed resources to pull together details on our surroundings begs for local involvement, and our interest to aggregate information in a central place sets structure in place where distributed collectors report to a central authority.
OpenStreetMap, the online map creation site, is a site that set out to circumvent authority and bypass the onerous licensing fees of Ordnance Survey. The map creation site has pulled together an impressive amount of high-quality data, and has many questioning the business model of commercial data providers given the exorbitant cost of global data collection and the need to keep the data up-to-date.
There have been many high-profile and high-reward examples of crowdsourced data helping to get a handle on dramatic change, such as in the earthquake in Haiti and the tsunami in Japan. Additionally, the tools are prime for mapping events as they occur in real-time in order to share experience and aid data collection. With continued investment in tools and approaches by governments, NGOs and geospatial vendors, we can expect our ability to involve novice mappers to improve, and our insight into change to increase.