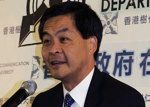 Mr. Leung returned to Hong Kong in 1977, just as mainland China was beginning its process of economic reform in the wake of Mao Zedong's death. Mr. Leung's utilised his expertise as a surveyor traveling around China, delivering training and lectures. As a member of Jones Lang Wootton, a British real estate consultancy firm, he helped launch regulation of private ownership of land use rights in cities including Shanghai, Guangzhou and Beijing.
In 1993 he opened his own surveyor company. By 2000 this company would merge along with Singapore's Dai Yuk-coeng company into DTZ Debenham Tie Leung Limited. From 1995 to 1996 Leung was the president of Hong Kong Institute of Surveyors. He was the past chairman of Hong Kong branch's Royal Institution of Chartered Surveyors. He then became an honorary advisor of Shenzhen, Tianjian and Shanghai government on Land Reform. He is also the International Economic advisor for the People's government of Hebei province.

When China began the process of negotiating the return of Hong Kong from Britain, Mr. Leung took a leading part in the territory's transition. In 1988, at just age 34, he was appointed secretary-general of a committee responsible for helping Hong Kong ease back to Chinese control, the Basic Law Consultative Committee, which helped collect opinions to shape the mini-constitution currently governing Hong Kong.
He was chairman of property brokerage firm DTZ's Asian arm before he resigned in November to run for Hong Kong leader.
Resources
– Wikipedia
– Who is Leung Chun-ying?, Wall Street Journal, China Realtime Report