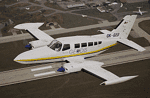 Prior to the GPS, and now GNSS, approach, each aerial mapping endeavor required the collection of many ground control points, at great cost. With the on-board GNSS IMU, mappers can directly measure the position of each image. This use was first applied to large-format film cameras, migrated to large-format digital cameras and lidar, and is now applied to all manner of aerial data capture sensors.
"Our commitment is to provide Applanix' customers with the very best technology for completing their airborne mapping projects faster, more accurately and at a lower cost," said Joe Hutton, Director of Airborne Products at Applanix.
The company announced their latest version of POS AV and POSTrack hardware and software systems for directly georeferencing airborne sensor data at the ASPRS Conference this week in Sacramento, Calif. These latest versions are ruggedized, consume less power, offer USB data logging, and are 50% smaller and lighter than previous units. They also incorporate a next-generation GNSS receiver that captures 220 channels to track every satellite in the sky, including Glonass, GPS, and Galileo, with survey-type performance.
Aerial mapping without this system isn't nearly as efficient, illustrated with the issue that tight turns means that the wing blocks the satellite signal. With the system, pilots can take sharp turns, because the IMU fills any gaps with accurate position should the plane lose lock on the GNSS satellites. The tighter and faster turn translates into saving time and money, with less fuel consumed. Applanix has calculated a cost savings of nearly 20%, because with the operating costs of planes running into the thousands of dollars per hour, every minute saved quickly adds up.
The accurate position of the imagery pays off on the processing side, where direct georefencing that can measure position and orientation of each image and project the image down to the ground means that every image can produce a map. With this greater precision and the greater resoloution of aerial cameras, Applanix is quickly moving toward precise 3D coordinates on every pixel, which means that pixel clouds could easily replace lidar point clouds for detailed 3D models.