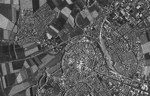 Synthetic aperture radar (SAR) technology operates through the concentration of radar pulses through an anteanna, and analyzing the return wave formation. Today's AR technology returns a finer spatial resolution, with resolution of millimeters achieved in labs, and with 1 meter resolution achievable on such commercial satellites as Astrium's TerraSAR-X or Radarsat's Radarsat-2.
Persistent surveillance is only possible when there are no interruptions. Radar has a distinct advantage of being able to collect imagery regardless of weather, and during both day and night. The ability to revisit the same place repeatedly, and get the same imagery quality regardless of weather, provides an advantage for change detection applications.
Radar data is also unique in its ability to pick up the surface of water, and disturbances. With this ability comes the application to monitor and track ships, to the point where the size and direction of a ships wake help determin both its speed and heading in order to pinpoint current location.
Among the other advantages and applications of radar satellite imagery are:
the ability to create a 3D image based on different angles of return without the requirement of a stereo image
land cover and land use mapping in areas that are always covered by clouds, such as rainforests
with a time series of images over the same area, displacements of the surface can be detected for such applications as mining, oil and gas extraction, construction and excavation
the ability to see land disturbance such as natural or manmade disasters as well as the detection of paths or the movement of troops by picking up subtle changes in vegetation that are revealed in the imagery
the quick assessment of natural disasters thanks to the ability to rapidly revisit areas as well as the wide swath of observation
unique properties for forest monitoring, flood monitoring, and water quality applications
While the speckle structure of SAR images take some getting used to in order to correctly interpret the images, SAR is an important earth observation input that fills in many data gaps that exist with traditional image-based sensors.