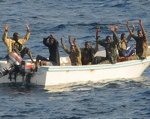 Somalia is responsible for 60% of all global piracy, providing a unique challenge with the lack of rule of law with the dissolution of the central government. The mix of poverty, concentration of shipping, competing tribal entities, and lack of jurisdictions have exacerbated the problem. What started with illegal fishing, and private coast guards that taxed fishing vessels, has steadily increased to widespread hijacking and hostage taking for ransom.
Oceans Beyond Piracy, an issue-focused initiative of the One Earth Future Foundation, held a panel discussion this week regarding the human cost of Somali piracy. Panel members from around the globe represented a broad cross-section of expert opinion on the interconnected issues of piracy and economy, and the thorny legal and moral issues that have meant little progress has been made on the problem.
Oceans Beyond Piracy has produced an influential annual report that quantifies the economic cost of Somali piracy on a global scale. The report puts a $7 Billion price tag, with paid ransoms accounting for just 2 percent of that total. The largest cost is added fuel due to increased shipping speeds, followed by military expense, on-board security equpment, re-routing delays and costs, insurance, and then the ransoms. The recurring annual costs of today's strategies make 99 percent of the expense, with very little funds going toward long-term solutions.
The pirates effectiveness has been somewhat curtailed with enhanced security aboard ships, but armed guards is a costly deterrent. The crackdown has helped reduce the number of effective incidents this past year, but it has also led to a geographic spread of operations further East toward India, and northeast toward the Gulf of Oman and the Strait of Hormuz.
Tracking and apprehending pirates is a capability of navies from around the world, but with little coordination and a lack of a plan on what to do with captured pirates. Persistent surveillance of pirate vessels are within the capabilities of the current geospatial toolset, where updated data could better prepare crews for pending problems, and ongoing tracking and monitoring could support more efficient prosecution of the perpetrators.
Currently, GeoEye provides a commercial vessel monitoring service with imagery and a vessel tracking unit that provides detailed worldwide tracking and mapping capabilities. There are other vendors that provide similar tools, and a large number of satellite-based monitoring feeds that could add a visual check to track the hubs of pirate activity.
With the cost of the piracy problems exploding into the billions, the cost of better surveillance certainly is a worthwhile pursuit to curtail both the human and economic cost of this lawlessness.