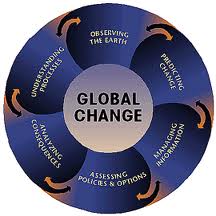 The new center merges the Univ. of Maryland's Behavioral and Social Sciences (BSOS) department with Beijing Normal University's College of Global Change and Earth System Science, further strengthening ties that span seven years of close collaboration on remote sensing technology and earth observation. The initial work of the Center is based on two major existing cooperative projects involving funding from both countries.
"Global climate change is one of the major issues of the 21st century," BSOS Dean John Townshend said. "It's going to effect agriculture, it's going to effect level of the sea water, it's going to have enormous impact upon quality of life, and we need to bring in the best minds from all over the world."
The objectives of the Joint Center are to: Promote and strengthen bilateral cooperation in the fields of Global Change and Earth System Science; Share resources to facilitate the application of research projects and funding in China and the US; Cooperate and collaborate on a wide range of international research programs; Explore new strategies for Sino-US academic cooperation to train and cultivate young scholars and research leaders; Share the intellectual property rights resulting from research at the joint center.
In the future, the center will expand this program to include other institutions in China.
Source: University of Maryland.