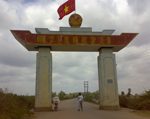 The border between Cambodia and Vietnam is set to be refined in the new year. The Vietnam-Cambodia Joint Committee on Border Demarcation announced the award for a two-year, US $1.5 million mapping project to the Danish team from BlomInfo A/S on Dec. 17. The bidding award will be followed by further negotiations on requirements and technical specifications in the coming year, with mapping set to conclude by August 2012.
The latest maps of the border region are more than 60 years old, and don't conform to the border treaty that was signed by the two nations in 2005. The surveying and mapping effort will deploy the latest satellite-based surveying equipment for the project, mapping inline with international standards, and producing a detailed topographical map of the border region.
In the past, the lack of a well-defined border has led to strained relations and as a source of internal political wrangling. Recently, the opposition Sam Rainsy Party and other critics in Cambodia have alleged that Cambodia has ceded territory at various points along the border.
Nguyen Hong Thao, deputy director of the border committee of Vietnam, said that, "Producing a border land map of both countries will help transform the borderlines to become cooperative, peaceful and friendly."