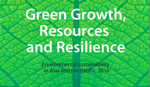 The combined pressures of population growth, unsustainable natural resource use, and climate change are forcing a new economic paradigm. Economic models based on low-cost labour and inefficient resource use are not economically, socially or environmentally sustainable. The new green economy approach calls for increased investments in economic activities that enhance the earth's natural capital and reduce ecological scarcities and environmental risks, such as renewable energy, low-carbon transport, energy and water-efficient buildings, and sustainable agriculture, forest management and fisheries.
Inefficient resource use is of particular concern given the resulting rising costs, supply risks, and the millions of people without sufficient food, water and energy. The use of these resources has impacts on the health and productivity of ecosystems and on natural landscapes. With greater consumption there are reductions in the flows of ecosystem services, which impact vulnerable and poor people the most heavily.
Given the huge infrastructure investments in the region, now is a time when great impacts can be realized by turning the region towards lower-carbon economies. The urban population in the region is expected to expand by 0.7 billion between 2010 and 2025, meaning that the region's cities and towns will need to provide jobs, housing, water, energy, transport, education, health and cultural infrastructure for more than 120,000 new people every day for the next 15 years.
A positive factor in light of all these pressures is that some countries in the region realise the need for green growth. China, in particular, in 2010 overtook the United States in terms of green technology investment. Japan and the Republic of Korea have established international initiatives to support more environmentally sustainable economic growth. Many other governments, including Cambodia, Fiji, Kazakhstan, the Maldives and Mongolia, have made major policy statements supporting green growth.
The ADB is shaping its strategies in order to ensure sustainability. The issue now commands half of the ADB's financing.
Download the full report here.