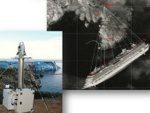 Regarding sales performance, and variations in different global markets, the following details were outlined:
The blended Intergraph (software) and Hexagon (hardware) business has a favorable effect on cash flow, where the traditional hardware business involves building an inventory, invoicing and then getting paid, with software the licenses are essentially pre-payments.
Investment activities were higher than normal for the quarter (with the purchase of MicroSurvey and a Brazilian software company SISGRAPH)
Currency impacts show that Western Europe was down 3% with the European debt crisis.
The strongest growth was in South America
Asia saw great advances, particularly for Intergraph where software sales increased 70% for the quarter via the sales channels that other business units have established.
The call also highlighted some interesting applications of Hexagon technologies, including:
Use of Leica measurement technologies to monitor the Costa Concordia cruise ship wreck, with automatic total stations used, and monitoring prisms mounted on the vessel
They have developed a Metro Inspection System for the Chinese Market with the ability to survey coordinates of buildings, pipe lines and tracks.
They are involved in a large-scale landslide monitoring project with partner Hydrochina Huadong Engineering to monitor landslide of Kala Hydropower Station
Novatel and Stara have partnered to deliver precision agriculture solutions for Brazilian farmers
Overall for 2011, the company saw sales growth of 46% with 12 % organic growth and margins at 20% and operating cash flow increases of 35%. There is a focus within the company on increasing the margins of the SG&I business where Intergraph resides (which is in the teens). Going forward, the company sees a strong benefit from the Intergraph integration, particularly in R&D projects. Rollén indicated that the company is ahead of their target on this integration.