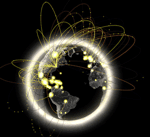 While there are challenges, the benefits of having more available and openly accessible data has phenomenal implications for how we understand and interact with our world. The amount of accessible information provides the means for new insights based on patterns and through sharing across disciplines. For the scientific community, this access can free scientists up for immediate explorations of hypotheses rather than long processes of data collection and management, effectively bypassing the need for any data collection.
Geospatial technology has been at the forefront of Big Data from the start, due to large volumes of remote sensing and vector data that need to be stored and managed. In fact, when Microsoft Research set out to demonstrate database scalability way back in 1997, they used aerial imagery as their demonstration project, standing up the TerraServer that is still active today. With the problems of compiling and visualizing global data, there is much that the world can benefit from the industry that serves up the world.
Just recently, McKinsey & Company released a detailed report on Big Data as a frontier for innovation, competition and productivity. Within the report they placed a focus on personal location data as one of five domains that have a transformative potential, and they keyed in on spatial analysis as a necessary skill to make sense of all the data. Not only is the ability to make sense of this data valuable, the data and services that can be built around location data is also growing in value.
A key bottleneck to uncovering all this value is the shortage of talent to take advantage of all this data. McKinsey identifies three types of talent, including those that can analyze large volumes of data to provide insight (think GIS), those that can understand the value and consume the insight to manage operations, and those that provide technology support. The GIS analyst, providing they actually engage in analysis, has a bright future ahead.